Latest Isle of Man Trials News
Full Throttle Motorsport Practice Day
Saturday 23rd May - Knock Froy - 10.00am till 4.00pm
No licence required, adults and juniors welcome, minimum age 6.
Turn up and ride at anytime. Catering van will be on site serving food, cold and hot drinks.
Call Ed: 07624 333344 for more details.
Latest Results and Forthcoming Dates
Peveril MCC
Sunday 24th May
Centre Championship Round 3
Start from Glen Helen carpark
9.00 for 10.00am Start
Runaround for Solos and Sidecars
Ramsey MCC
Sunday 21st June
Manx Trials Club
Sunday 27th June
Azzy Paints Pre65 Series
Runaround
Start St John Carpark
Southern MCC
Saturday 4th July
Summer Series Round 1
Southern MCC
Sunday 12th July
Mervyn Caley
Centre Championship Round 3
Full list of Finishers (PDF)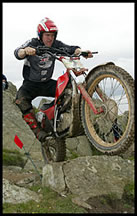 Manx Classic Weekend
Full List of Finishers (PDF)
---